Getting in the NCAA Tournament is the big thing.
Then win and advance.
Michigan State as a play-in is absurd considering the way the Spartans finished the regular season with wins over two No. 1 seeds, but in is in.
Michigan as a 1 seed seems right considering the overall body of work by the Wolverines this season. Big Ten champs in a year when the league was loaded with competitive teams is impressive.
They are in, so for both it ultimately becomes win and advance in a single-elimination tournament.
MSU, IZZO WILL USE THE CHIP
Asked to play an extra game against UCLA could end up serving Michigan State and coach Tom Izzo well. Nobody has ever played the chip-on-the-shoulder underdog role more to his advantage even when his team is actually favored. He gets built-in help this time convincing his team that there are those out there who don't think they belong. It looks like they were dissed. In fact, he probably doesn't need to mention it.
The Spartans will make a little noise. It seems certain they will win at least one and advance, if not two.
The biggest concern for Michigan State is a tendency to shoot horribly in unison. They had games where it seemed everybody was ice cold through the game. Then, they had games were everybody seemed to shoot well. Inconsistent shooting will kill a team, even one that rebounds and defends. It's still about who has the most points in the end.
UM, HOWARD HAVE TO FIND THAT SOMEONE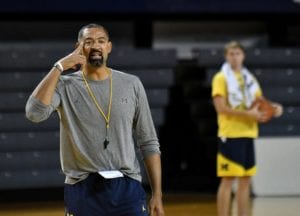 The Wolverines can still make especially big noise despite the injury to Isaiah Livers. They have some depth. They defend and rebound. They have other players who can step up and shoot. No Livers might not matter until say the final eight. Then it could matter.
The biggest concern for Michigan is response to the Livers injury. Other players, and they have them, simply need to do a little more, including leadership, defending, driving to the basket, hitting key 3-point shots. It can be done as a committee in most games, but in a crunch do-or-die moment like in the Big Ten Tournament against Ohio State, someONE needs to be that somebody, and the coach has to figure out which one that someONE happens to be in that moment.
I really thought Hunter Dickinson dragged them back into the game against the Buckeyes, and he had to at least touch the ball on the last possession if only to draw a double-team and allow him to then throw a kick-out pass. The do-or-die jump shot by Mike Smith just didn't seem like a good plan for the moment by coach Juwan Howard – at least from what we have been told – and I think he learned from it.
Wrapping up, Michigan and Michigan State are in the tournament, and we get to watch.
Listen for the noise.
Bracket image from NCAA.com
Coaches photos from the Detroit News