Do you believe Matt Stafford will ever lead the Lions to a playoff victory?  To a Super Bowl?
Me neither.
So, let's cut bait while he still has a modicum of tread left on his tires.  I don't care what the salary cap hit will be.  Figure it out.
There are a lot of excellent young dual-threat QBs coming down the pike. And clearly it is time to move on. The bald truth is Matt Stafford hasn't won nearly enough games.
YOU ARE WHAT YOUR RECORD SAYS YOU ARE
Go ahead tell me how it isn't on poor Matty because his teammates were never good enough. The truth is the team wasn't good enough.  "The Team, the team, the team!" as Bo put it.
That's the great thing about football.  It takes all 11 guys doing their job to be successful. There are a lot of moving parts.  The trick is to get all them parts moving together as one.  Some guys are great at that. They are called Champions.  Stafford has never been one of those guys.  He put up gaudy numbers, played through pain, and even teased us a few times by getting the team to the playoffs.
But that's when the wheels came off.
SUPER BOWL QUARTERBACK?
I ain't mad at Stafford.  He is an extremely talented guy.  He's piñata tough! You can pound on him all day and he won't give up the candy.  But he is not a "Super Bowl QB."  I know this because he has never even won a damn playoff game.
Which is why I found the comments by Phil Simms earlier this week quite humorous.  I wasn't aware Simms had taken up comedy, but he said some funny stuff.
After trashing the Lions franchise as never even having a chance to go to a Super Bowl, he gave Stafford a free pass to the Big Dance.
He said, and I quote, "He's (Stafford) been a Super Bowl quarterback. He's just not playing with a Super Bowl team."
Say what?
This is one of the more ridiculous things I've heard since corona came knocking.
SIMMS SHOULD KNOW BETTER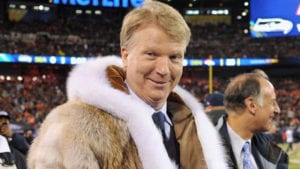 Simms, himself, is a Super Bowl quarterback having won two Super Bowls with the New York Football Giants. He actually played in one of them. As Simms must know, football is the ultimate team sport and it takes the effort of every man on the roster to get there.  Unless Simms just got to them Super Bowls himself.
DO-RAG TOO TIGHT
Maybe Simms do-rag was too tight because he wasn't done after anointing Super Stafford.  He also had a message for us Lions fans.  He said, "I hope they (Detroit) get rid of him and I hope he lands with a really good team and he's going to lead them to a Super Bowl."
Wow, Phil.  That really hurts.
FORD TOUGH
Now, I'll admit Stafford has been frustratingly good.  (Don't even try to use the word "great." Greatness is a different deal: Stafford is not in that conversation.)
But he is a top ten NFL QB.  He comes in at ninth or tenth; he used to anyway. He's shown flashes of brilliance. He's consistent. He's tough in a "Ford Tough" way – he can take a beating like nobody since Rocky Balboa.
But he ain't no damn Super Bowl quarterback.  One has to actually win a playoff game or two to garner that distinction.
And isn't there more to toughness than an ability to fight through a beating?
Like winning?
Stafford photo from Freep.com
Simms photo from awfulannouncing.com