Now that was fun!
Uplifting, even.
The Detroit Lions finally played the game the way it was meant to be played. They fought. They made adjustments.  They were physical. They had intensity. They had an enthusiasm unknown to mankind. They kept fighting. They were into it. They laughed. They cussed. They dug deep.
And in the end, they even found a way to win.
Hell Yeah!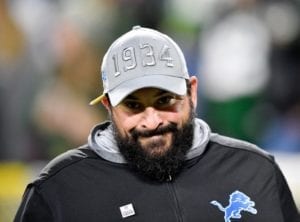 THE BEVELL LEVEL
I don't know if it was because the Schleprock of a killjoy known as Matt Patricia was absent or if Darrell Bevell just has another level.  Time will tell. But that was a fun game where the Lions never lost heart.
Granted, it was a bumpy ride with the typical maddening moments mixed in with some glorious stretches. Also sprinkled in were moments of pure bliss.
THEY GAVE ME GLEE!
I involuntarily laughed out loud with unfettered glee when Stafford waved his rookie receiver Quintez Cephus deeper and then launched a bomb to him for a late first half TD.
That was fun.
They were slinging it around; they had new energy. They played unleashed.
No heads were hanging on the bench with disinterested stares.  We've seen that far-away look glaze over this team on a nearly weekly basis for decades.  There was no haze hanging over this squad on this day.
FEELING THE VIBE; DOING THE HAPPY DANCE
The energy on the sideline was as palpable as it was contagious. They were "vibing" in a way I have rarely witnessed with this team. It was the vibe we live for. It's why we play and watch the game.  Its what makes us care.  Because they played like they cared.  A lot.
All senses were on full alert. They were zeroed in on the moment. You could feel the current as it ran through the heart of the team, the community and even us fans.
THE BUZZ
That is why we play and watch this great game.  When the electricity runs through us all giving a positive charge to Lions Nation there is nothing like it.  That's what it's all about, baby.
I don't know when I last felt a buzz like I had watching the Lions this Sunday past. I do know I liked it.  I liked it a lot.
And I want more.
Photos: Darrell Bevell photo and Matt Patricia photo from Detroit Free Press; Schleprock image from DeviantArt