They go and hire Chris Spielman…
And totally redeem themselves!
I was in the midst of writing this blog about chopping wood (Lions president, Rod Wood, in particular) when a house was dropped on me.  Apparently, a new wizard is coming back to Oz!
TOUGH START TO THE WEEK
It was a rough start to this week. The tone was set by the Lions loss to Green Bay and the realization that despite putting up a fight the Lions are still no match for the Packers. I could not see a way out of the quagmire; the dead-end cycle of Detroit doing the same old thing and expecting a different result was making me insane. It appeared they were primed to go back to the trough for more of the same old slop in their search for a new GM and head coach.
It was 39 and raining and I was home complaining the Lions were going to botch another fresh start. The main target of my ire was Detroit's president, Rod Wood.  Wood, admittedly is not a "football guy." Yet he was the man called upon to attempt the impossible – hold the hand of the Lions new owner Sheila Ford Hamp  while she hires a new GM and head coach to turn around the Lions half century-plus of misery.
CHOP WOOD!
To say I was bitter would be an understatement. I was ruthlessly eviscerating Rod Wood in my blog.  I even made some juvenile "wood" puns; if things aren't going your way you just gotta "keep chopping wood."  (Believe me, I wanted Wood chopped!)
I wrote how the Lions would be taken to the "wood" shed again in their most recent hunt for new head honchos.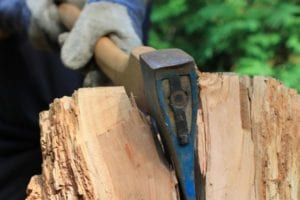 WHERE IS THE FOOTBALL GUY? 
The biggest knock I had on Wood and the Lions hiring process was there would be no legitimate "football-person" bleeding Honolulu Blue in the room. How can one hire a football coach and general manager if one doesn't know football? Ask the NFL for help and then hire Ernie Accorsi to do the dirty work again?
God forbid.
TREE MAKES NOISE
And then a tree, which nobody saw, fell in the woods making a resounding noise. This not only answered an age-old question, but it also reversed and raised my spirits.
Now, not only will there be "a" football-person in the room, "THE" football-person was going to be in the room!
Chris Spielman!
MORE FOOTBALL PEOPLE!
And on top of that the Lions also put together an advisory group to help with the hiring process. You want another football-person? Try on Barry Sanders for size. Barry, along with former MSU AD Mark Hollis and former NFL GM Rod Graves are part of a three-man committee to help determine exactly what the Lions need to get this thing in gear.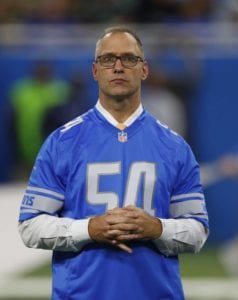 SPIELMAN HAS HEART OF A LION
I know Chris Spielman fairly well. I worked with him at ESPN, did a couple games with him, too. He used to come to my football camps I held back in the day in Grandville. In fact, there is still a bench press at Grandville High School that has Spielman's name engraved on a plate as the donor.
I used to pay NFL players $500 to spend a day with the kids at my camp.  Chris said he didn't want the money, to give it to the kids.  So I did. This is the kind of dude we are discussing.
BROTHER FROM ANOTHER MOTHER?
In an interesting twist of fate Chris and I have had similar paths on this planet.  Born into football families we started playing the game at a very young age. We were both hard working, blue-collar types who worked our tails off in the weight room.  We are both Inside Linebackers.  We both played for Buffalo.
We both went into broadcasting after 10-year pro football careers. We both were the head coach of the Destroyers Arena Football franchise (me in Buffalo, him in Columbus.) And we both are incredibly good looking! (By our standards, anyway).
I feel like he is a brother from another mother.
And now he is charged with trying to get the Lions right.  He came close last time he attempted such a task. He was an integral part of the Lions only playoff win in either of our lifetimes and was one game from playing me and my Buffalo Bills in Super Bowl XXVI following the 1991 season.
I truly believe the tide has turned for us Lions fans. Nobody will work harder than Spielman in an effort to bring winning football to the Motor City. Nobody will work smarter or with more determination and enthusiasm.
Nobody will chop Wood like Chris Spielman!
Spielman playing days photo from USA Today.
Spielman photo from mlive.com
Chop wood photo from morningchores.com