It is hard to believe it has been a decade since Wes Leonard collapsed and died after hitting the game winning shot for Fennville High School.
One decade ago Fennville celebrated a 20-0 season in one minute, and then faced tragedy the next.
Wes Leonard, 16, collapsed while celebrating with teammates just moments after making a dramatic shot to finish a perfect season.
He died from cardiac arrest less than two hours later at Holland Hospital on an unimaginable Thursday night in the small community.
Leonard, a star multiple-sport athlete, had scored the winning points in a dramatic 57-55 overtime win against rival Bridgman. Fennville had just finished the regular season at 20-0, and Leonard was lifted into the air by teammates and many of the school's 400 students and fans from the community who danced around in a victory celebration.
Bridgman knocked the Fennville Blackhawks out of the state tournament the previous year in the regionals. Eventually the team played on and made a dramatic run in the MHSAA state tournament. The story captured the attention and hearts of America.
Leonard's death has inspired so much more.
Below is a note from his family to the young man:
LETTER FROM HIS PARENTS TO WESLEY
Wesley,
We honor you today, marking the 10th year since we have seen you here on this earth.
We continue to honor you by keeping the foundation that was started in your name, Wes Leonard Heart Team, on track with placing AEDs in Michigan schools, gyms and clubs at no charge to the school/group. Our number of AEDs placed is now over 400.
Laws and requirements have been changed which are saving lives right here in Michigan.  There are now incentives for schools to run drills and have plans in place to save their own students and staff.  It is working and so many students, staff, fans and referees are with us today because of these changes.
To say family and friends miss you is such a simple statement for the deep loss that is part of our lives on a daily basis.  We know that smile and personality would have made our lives more rich and beautiful, and so the loss of your life diminishes ours.
The struggle has been daily for these past ten years, with some days easier than others.  Your friends are getting married and starting families of their own.  It is a beautiful sight to see and so many of them continue to hold us tight in their love for you.
Our lives are impacted daily with the one constant of life….change. Your  brother has graduated college and continues to make us so proud with his caring attitude and compassion for others.    We are also living through a pandemic and seeing such suffering of other families as loss of life is a daily fact that is overwhelming for so many in our country. We mourn with all of you.
Wesley, you are missed, you are beloved, and we will continue to strive to honor you as you would want us to do; by continuing to place life saving devices in our schools and saving others.
Love Always,
Mom, Dad and Mitchell
IT BECAME A NATIONAL STORY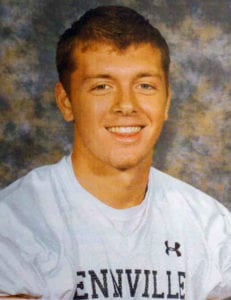 Here are stories from the Grand Rapids Press/mlive.com published at the time…
Wes Leonard's teammates mourn Fennville star athlete, say undefeated season 'doesn't matter' anymore – mlive.com
Fennville to play first game after death of star Wes Leonard at Hope College – mlive.com
Learn more at Wes Leonard Heart Team – Home
Photo of West Leonard (tallest) celebrating with his teammates moments after he hit the last shot of his life is courtesy of LaShell Photography
 Head shot from Wes Leonard Heart Team