So I'm listening this morning to Dan Patrick on 106.1/am1340 The Ticket in Grand Rapids and how his former Sportscenter partner Keith Olbermann said the World Series probably won't happen this year because of COVID-19.
He then listed Michigan as one of the new virus hot spots in America. This isn't true. The virus panic and fear in an important political year needs to end. We all deserve the truth and facts on everything connected to this virus from the media and both sides of the political aisle. Here are the latest COVID-19 cases and death numbers in Michigan: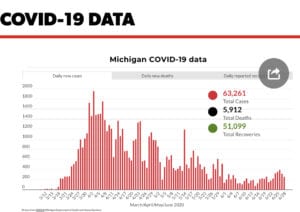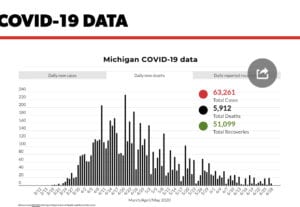 Our country's fight against the virus isn't about the number of cases or how many people get infected. It's about not having hospitals at capacity with critically ill Covid-19 patients and limiting the loss of life. So now cases are the new media message. These virus storylines change almost every two weeks in the presidential election year.
NOT BUYING WHAT MEDIA IS SELLING
Like you, I wonder why I'm held accountable for wearing a mask but others aren't.  Like you, I don't buy what the media is selling. Like you, when  I hear schools will open, that sports on all levels are returning to play with few issues, that the death rate continues to drop, I shake my head wondering if the media really believes their own politically slanted messages. This goes for both sides of the political aisle.
I'm embarrassed our country's political machines would use a pandemic to get votes.
I go back to sports again as blueprints for dealing with the facts and truth with the virus. I've watched youth, high school, colleges, and pro teams lean on the medical data, not media fear and panic, to guide their important decisions on returning to play.
FIND TRUTH ABOUT COVID-19
I think we need some of the leadership I've seen in sports at all levels to surface on both sides of the political aisle in America before we destroy our country.
Let's all follow the complete medical data portfolio on COVID-19. It's my mental sanctuary to ease my mind with the truth about this virus.
As I watch most in the media, on the social networks, and almost every politician lower our nation's credibility on a daily basis my hope for America only lies in the hands of the great men and women of all skin colors. Together we need to rise above the agendas of the media and political parties to come together to unite our country to bring true change for all Americans.