There are certain nicknames that we in the state of Michigan give our athletes and they seem so perfect, like "Mr. Hockey," or "Mr. Tiger." Al Kaline was the latter and it suited him.
 He embraced it, not boastfully, but because he was honored to earn such a title.

  We, as a city, state and baseball nation lost him Monday at the age of 85.
THE MODEL MR. TIGER
 Kaline was the model ballplayer. He was rare: graceful and powerful.

 He was the complete player. He earned 10 gold gloves and only two outfielders earned more – Roberto Clemente and Willie Mays each had 12; he was named to 18 All-Star games, including 13 straight from 1955-1967; he finished in the top 10 in MVP voting nine times

Kaline was durable. He played in 100 games or more in 19 consecutive seasons, an American League record he shared with Tris Speaker.

He was consistent: Kaline hit .300 or better on nine different occasions and he struck out more than 75 times in just one season – at age 39.


 He was widely admired. The great Brooks Robinson, who most say is the best defensive third baseman of all time, once said of Kaline: "There have been some great defensive players, but the fella who could do everything is Al Kaline."
 Ted Williams, the last man to hit .400, said of Kaline: "He is the greatest right handed hitter in the league."
ONE OF THE GREATEST IN HISTORY
Kaline was genuine.

Every day that I walked into the Tigers home clubhouse it seemed I was greeted with an Al Kaline smile, handshake and an enjoyable discussion of either baseball, golf or life. He then would make his way around the clubhouse talking with various players, offering a bending ear or sharing a story or helpful hint. I will desperately miss that.

Al Kaline was one of the greatest players in the history of the sport.
He was OURS and I hope we all treasure that.
I hope we continue to embrace just how great Kaline and Ty Cobb and Hank Greenberg and Charlie Gehringer and Hal Newhouser were. I hope we live in the moment, but never forget the Tigers from the wonderful and iconic past.

We have so many "greats of all time" who have played in our city and state. It would be difficult to pick a Michigan sports Mount Rushmore, yet it would seem to be incomplete without Mr. Tiger.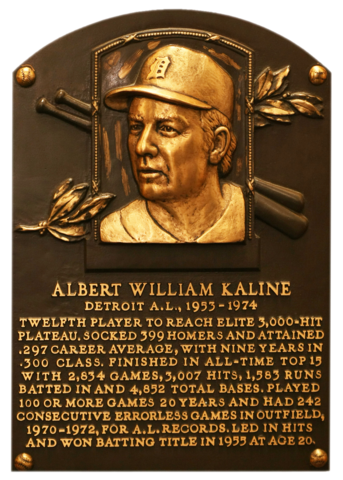 We'll miss him, but we will never forget him.
Photo credits:
Kaline and Gordie Howe at top from freep.com
Kaline swing from fox.com
Willie Mays and Kaline from freep.com
Plaque from baseballhall.org