Usually, I spend my Father's Day at the ballpark or in-studio covering a Tigers game for Fox Sports Detroit. It's one of those holidays that many workers want off to spend with their family, so I gladly take the shift.

It's not that I don't want to spend time at home, it's just that baseball brings me closer to my father even though he hasn't been on this earth since 1985, when I was 19.

Baseball provided a special bond between me and my Dad.

Tiger Stadium was Mecca for us and cheering on the Tigers brought us unified joy.

He coached me and took me to games and we spoke a universal language that included phrases like, "watch the ball hit the bat," and "watch the ball all the way into your glove," and "a walk's as good as a hit."

I miss him.
FATHER LEFT SHEP BASEBALL
I miss his stern suggestions and his patriotic views toward his country, family and baseball. His death left me void of needed advice, and it forced me to figure out things on my own. But I always had baseball to bring back fond memories of our time together.

I miss baseball.

I miss the game that provided that comfort and familiarity and that closeness that no other sport created between us.

I tried to pass that on to my boys, but only my oldest, Chad, truly appreciated and embraced the game the way I did. My other kids gravitated toward lacrosse.

I coached Chad when he was little like my Dad did for me when I was young.

Chad was much better than me and I paled in comparison to my father as a coach, but the game helped bring us together. We talk about it all the time.

Like most every Father's Day, I visited my father and talked to him.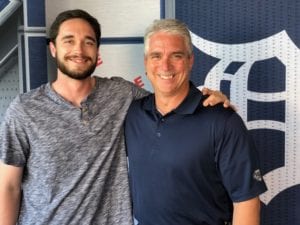 BASEBALL IS TOUGH LIFE LESSON RIGHT NOW
Today, I bragged about his 15 grand children and told him how much pride he would have going to their events and watching them grow.

I also apologized for the state of baseball and how much I miss it, especially on this holiday.

I think my dad would be proud that I help represent our favorite team, but I know he'd be emotionally hurt to hear and see what the leaders on both sides of the sport are doing to it and its fan base right now.

I hope the people (Rob Manfred and Tony Clark) who run the game quickly realize how much of a fabric the sport is for people like me. I hope they recognize the purity of the sport and how it creates ever-lasting memories-not always about the play on the field, but the conversations it provides between kids and their fathers. I hope they have not forgotten the lessons the game teaches all of us.

Unfortunately, we're all learning a tough lesson about life and baseball right now. Most of which we would all disagree with.
I know my dad would.
Tiger Stadium photo: fathead.com