I recently read Lori Horwedel's article in a recent edition of the Detroit News and was struck by the common feeling she and her son have; only to say out loud: "At least you have two more years."  Not that knowing that fact makes it an easier or less painful for the young man and his family.
I feel terrible for Eamon and his teammates and all athletes affected by these unsettling circumstances, but I especially feel bad for those young men and women who are seniors. I feel for MSU's Cassius Winston, UM's Zavier Simpson and Oakland's Xavier Hill-Maise. I'm disappointed for hockey seniors like Michigan's Will Lockwood and Spartan John Lethemon, other seniors who have been recently mentioned in newspaper articles or highlighted on TV.
Then there are the seniors in sports and at schools that don't get the same kind of recognition, like Seth Mendell of the UDM lacrosse team, Wayne State pitcher Josh Nelson or MSU gymnast Gabriella Douglas.
SEASON STOPS FOR SCOTT SHEPARD
My son, Scott, is in that same group.  He is a senior attack man with the Albion lacrosse team.
His daily routine, even in the off-season, included 6 a.m. lifts, hours of stick-handling, wall-ball and shooting and another workout at night.  Meanwhile, he balanced a full academic load and excelling in that realm.
His reward for his senior season was six games.
Quite honestly, I delayed in calling him at school when I heard all these spring sports were being canceled because I was in emotional turmoil and I didn't know what to say.
What do you say to someone who has loved a sport since he was in fourth grade, dreamed of playing that sport in college and now after 16 years is forced to stop playing it?
It's hard.
It's sad.
It hurts.
The Britons were off to their best start in five years, had legitimate conference title aspirations that would be accompanied by an NCAA tournament appearance. It was something they had accomplished twice in the previous three years and deserved another opportunity.
Personally, Scott was coming off MIAA Player of the Week honors and a six goal, seven-point game in his final contest.  He had climbed to ninth on the Brits all-time scoring charts and set a personal expectation of finishing in the top five.
All of it gone.
LIFE LESSONS AND MEMORIES
For years, I've told all my children why I think sports is so important.
It teaches values, responsibility, accountability, prioritization, teamwork and gives you the experience of dealing with people you like and don't like. It mirrors much of life and or the work place.
I understand how many view this: they believe sports is secondary. I don't disagree, but I believe sports gives us all a sense of normalcy.  Sports gives us a chance to forget the negative things for a while and escape.
There's nothing I've enjoyed more than watching any of my kids participate in sports.
There is a pride and sense of accomplishment they all have felt for working so hard to set goals and then reach them. Scott is a wonderful example of that and he just got short-changed his final year like many others.
I hope he and others look back with pride, knowing they were truly unique because not many can do what they did: balance sports, academics, and social life for four years at a high level.
Impressive.
Thanks for the memories, I just wish I could have had one more season of them, just like the athletes themselves.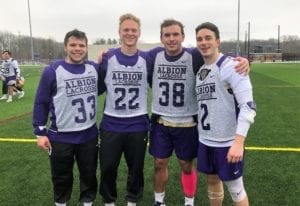 Albion Seniors – Photo by Matt Shepard