Detroiters, or should I say Michiganders, are a prideful pack. We boast 11 Stanley Cup titles, the most of any American-based hockey city; four baseball world championships; three NBA titles and, uh, well, four NFL championships. We're honored to call Joe Louis, arguably the greatest heavyweight of all time, our own. Tommy Hearns, the first fighter to win belts in five different weight classes, is ours too, and we can claim numerous Olympians and college national titles at various division in different sports.

But admittedly, we can be greedy too. I know I can. I think of our titles and can't help but wonder what could have been. What would have happened if Hearns had beaten Leonard in 1981 (was ahead on all three score cards going into the 14th round) or 1989 (controversial draw)?

There are five famous defeats for our teams that have always haunted me: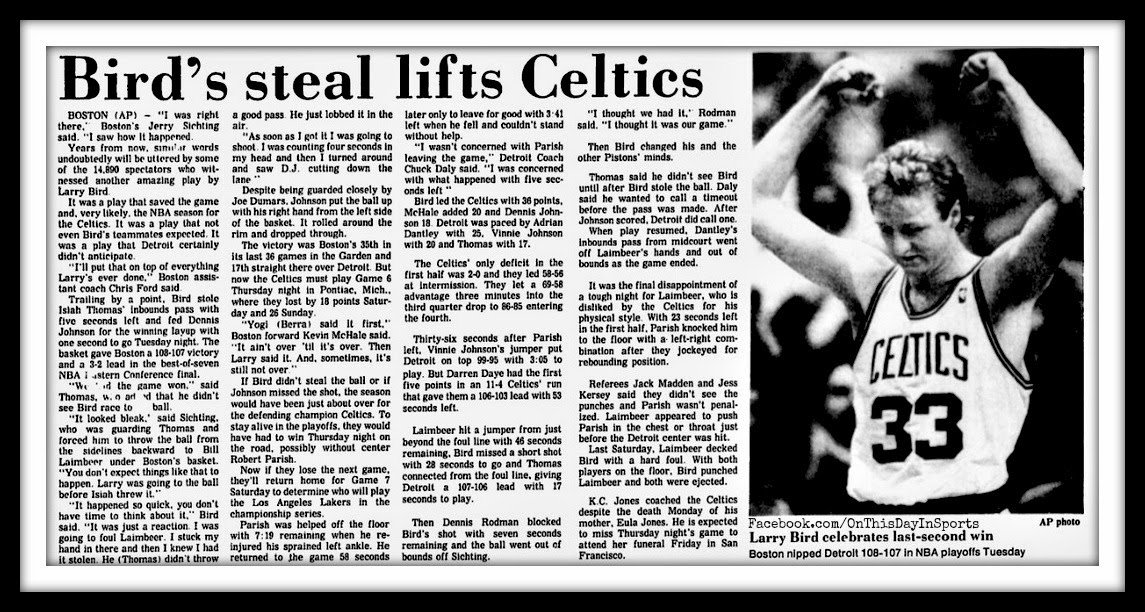 PISTONS, LIONS, TIGERS; DETROIT SPORTS MOMENTS
5. Pistons vs Celtics in game five of the 1987 Eastern Conference Finals: The Pistons were trailing by one at Boston Garden when Isiah Thomas nailed an 18-foot jumper with just 17 seconds remaining to give his team a one point lead. After a brilliant defensive play on a Larry Bird drive on the Boston ensuing possession, the Pistons were five seconds away from an upset. On the inbound, Larry Bird stole Thomas' pass, fed it to a cutting Dennis Johnson and the Celtics won 108-107. Detroit would win game six and force a game seven, only to fall three points short and give the Celtics their last conference title of the Larry Bird era. That game stings to this day.

4. 1981 NFC divisional playoff game: The Lions played toe-to-toe with the Niners at Candlestick Park and led 23-17 with just under five minutes remaining. Joe Montana engineered a 9-play 70-yard drive, hitting Freddie Solomon for a touchdown and the Niners took a 24-23 lead. Detroit moved to the San Francisco 24 with 11-seconds left. Eddie Murray, who had made three field goals that day to help overcome a Gary Danielson five-interception performance, lined up for a 43-yd field goal to win it. It was wide right. The Niners would go on to lose in the NFC title game, but the Lions wouldn't make the postseason again until 1991. Who knows how that post season may have changed the Lions moving forward, but it sure would have been nice to celebrate a playoff win. Instead we had to wait another 10 years.

3. 2010: There are just 23 perfect games in Major League history and none in Detroit Tigers history. The first was thrown by Lee Richmond of Worcester Worcesters in 1880 and the last by Seattle's Felix Hernandez in 2012. Armando Gallaraga should have been on the list. On June 2, 2010, Gallaraga retired 26 straight Cleveland Indians at Comerica Park. On a 1-1 pitch in the 9th, Tribe rookie Jason Donald grounded wide of first. Miguel Cabrera cleanly fielded the roller and tossed to a covering Gallaraga in time for the out. First base umpire Jim Joyce called Donald safe, marring history and ruining an experience for all who witnessed perfection. Gallaraga would go on to win just two more games that season and play just two more seasons in the majors: in Arizona in 2011 and Houston in 2012.

2. 2005 NBA Finals: The Pistons and Spurs were tied at two wins a piece in the NBA Finals. Detroit was seeking back-to-back titles; San Antonio was in search of it's third overall and second in three years. With the Pistons leading by two with nine seconds left in overtime, Spurs forward Robert Horry inbounded the ball to Manu Ginobili, who headed for the corner and was quickly double teamed by Rasheed Wallace. That left Horry open and Ginobili found him on the wing. Horry drilled the three pointer to give the visitors the 96-95 victory. The Pistons would win game six 95-86 but lose game seven in Texas. Detroit would lose in the Eastern Conference Finals the next three consecutive seasons and haven't been back to the championship series since.
2013 TIGERS DOOMED BY BULLPEN
1. 2013: The Tigers won 93 games and claimed the AL Central division crown. They used five games to dispose of Oakland in the divisional series and faced a 97-win Boston team in the ALCS. The Tigers took game one on a 1-0 shutout at Fenway Park. They had a chance to take a stranglehold on the series, leading 5-1 going into the bottom of the eighth. Max Scherzer had thrown 5 2/3-innings no-hit ball while striking out 13. He would allow one run and just two hits in 108 pitches through seven innings of work. Scherzer gave way to Jose Veras, who allowed a double. Drew Smyly was brought in to face Jacoby Ellsbury, but walked him. Al Alburquerque notched a strike out, but allowed a Dustin Pedroia single that loaded the bases. Jim Leyland would then turn to his closer-Joaquin Benoit, who had a career best 24 saves that year, in the hopes of retiring David Ortiz. Instead, Ortiz crushed a first-pitch changeup over the right field wall to tie the game at 5. The Sox would go on to the win it on Jarrod Saltalamacchia ninth inning rbi single. That damn at-bat changed the series and history. Boston would advance to the World Series and defeat St. Louis for their third title in eight years. Detroit's starters of Scherzer, Justin Verlander, Doug Fister, Anibal Sanchez and Rick Porcello were incredible that year and in the playoffs, but the bullpen couldn't match their effectiveness and because of that the Tigers missed a good shot at a fifth world title.

I'm grateful for the titles this state has and even proud of the teams that came so close, but couldn't get a ring. I just think we could have celebrated more if it weren't for…
Newspaper clipping image: Jim Aberdale on Twitter
Boston Red Sox photos of Ortiz homer in 2013 from WordPress.com