I recently read an article in Sports Illustrated that debated an NBA all-time starting five and sixth-man option. It polled their NBA writers and it quickly became obvious to me, based on their selections, when most of those writers were born.

I thought I'd take a page from that article and share my all-time team.

I based my choices on winning; all-around play and "killer instinct." I put in bold all-around play because I thought it vital to have players who can do more than just score. They must be able to defend, share the ball and be offensively gifted.
ALL-TIME PICKS MUST DEFEND AND SHARE BALL
The easy thing to do would be to just pick the six best players you've ever seen or researched and put them down. I didn't do that even though many of my picks would be viewed as predictable.
Here ya go:

PG-Jerry West: Per Basketball Reference, he was listed as a point guard in 12 of his 14 All-Star seasons. He was a 12-time All-NBA selection who won the scoring title in 1970 and was the only player in league history to win the NBA Finals MVP on a losing team. He led the league in assists in 1972 and was a five-time All-NBA defensive selection. West wasn't just a great scorer, passer and defender, he was a gamer who upped his scoring in the playoffs, averaging 40.5 ppg in the 1965 playoffs and 33 ppg in the post season from 1965-1969.

SG-Michael Jordan: There's really no debate. It's dumb to overthink this. I didn't like him and still don't, but that doesn't mean I can't appreciate his greatness. He's the best player ever. He can score on anyone and defend anyone. He was a 10-time All-NBA first teamer, who was also named to the league's best defensive team nine times. Jordan won 10 scoring titles and earned the league's MVP five times. Enough said.

SF-Larry Bird: This is where I let a player's defensive deficiency slide a bit. Bird was an ice-cold assassin who could shoot, back down smaller players and dribble-drive bigger defenders. He won three straight MVP awards and was named to the same number of All-Defensive teams. Bird was a ruthless competitor and one of the best free-throw shooters ever as evidenced by him leading the league four times in free throw percentage and finishing his career at 88.6 percent.
JAMES CAN PLAY FOUR POSITIONS
PF-LeBron James: He's a freak who can play four positions and guard as many. His accolades speak for themselves as a 15-time All-NBA selection, a four-time MVP and a six-time member of the NBA's All-Defensive team. What's underrated is his durability. He's led the NBA three times in minutes per game. James has also averaged 7 assists per game or better 11 times and was LEADING the NBA this year in that category at 10.6 assists before the league was forced to suspend play. In his career, James is shooting 34.5 percent from three and no one can draw a whistle (yes, he's a good actor) like he can-shooting 73.5 percent from the line over his 17 seasons.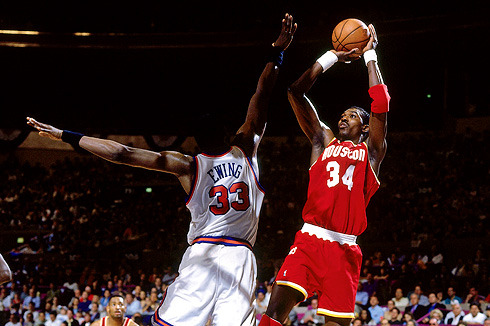 C-Hakeem Olajuwon: Perhaps the most athletic seven-footer to ever play the game. He could dribble like a two-guard; shoot like a small forward, yet play the inside game at both ends of the floor like his true position. Olajuwon won the league's MVP in 1994, was a nine-time All-Defensive selection and two-time NBA Defensive Player of the Year. He won a couple of rebounding titles and on three separate occasions was the league leader in blocked shots. Not lost on his resume was that he averaged 2.5 assists per game for his 18-year career.

6th Man-Kobe Bryant: I thought about Scottie Pippen here, but I can't have two Chicago Bulls on my all-time team. Besides, are you going to argue with Bryant? I didn't think so. He did it all as a player: 15-time All-NBA team; 12-time member of the All-Defensive team; five-time champion and two-time scoring champ. He's a complete player who could play any one of three positions.

On my all-time team, I would want winners who could pass, shoot and defend. I have that in this group. I would want the opposition to work hard for their shots while working even harder trying to defend my team. Maybe most importantly, I would want team guys who would willingly pass to keep their teammates engaged. Every one of the players on this list can score, defend, pass, shoot and score at the line when fouled.

Pick a better team…I dare ya.
Photos from: Jerry West, gettyimaged.com; Larry Bird, nba.com; Hakeem Olajuwon, bleacherreports.com, LeBron James, Los Angeles Times.